Dangit! For Investors
Join us in fundamentally changing the advertising implementation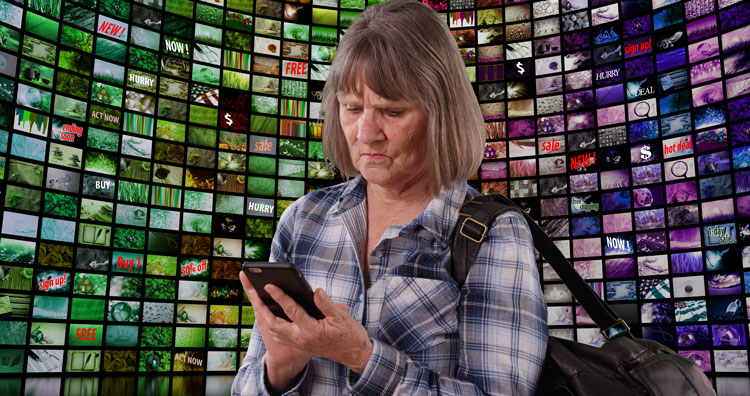 Individually, consumers are subjected to an average of 7,000 daily ads with a conversion rate of 4.7 days per viewed ad.
Dangit! is a startup mobile application company featuring unique abilities to influence certain consumer product purchase decisions.  Hype mechanisms such as "revolutionary", "paradigm shifting", and "disruptive" often tout products or services that are little more than fresh paint on well-established products in mature markets. Dangit! surpasses these superlative claim promises.
Dangit! identifies and resolves differences between inefficient targeted advertising, and those advertisements that are genuinely productive on multiple levels. Evidence of this need resolution is proven by advertisers' growing demands for more efficient lead generation spending, while platforms seek more effective conversion methods to validate A.I.'s effectiveness.
The electronic media industry thrives through creation of innovative content and programming to draw users in support of their models, by promoting product advertising. Many search and social media platform providers promote increased ad spending, blanketing these venues for the supposed benefit of advertisers, yet still fail to increase advertisers' market shares or stock values, leading to the migration back of Billions of advertising dollars to more verifiable ad platforms.
There is another avenue to achieve ad viewership and sales conversions beyond social media, streaming, podcasts, shopping, news, or email. Dangit! identifies and capitalizes on this unrealized realm. Dangit! is a customer facing mobile and internet based B2C application providing ad referral and facilitation services that amplify Brand and Retail Partners' ad messages. By identifying this realm and implementing this service, Dangit! benefits Brand, Web, and Retail Advertisers alike.
Nationwide, consumers purchase an average of 30 items per million ads seen. Over Five Hundred Million hourly broadcast, print, or social media ads generate approximately 16,000 purchases directly from consumers having seen an ad. Individually, consumers are subjected to an average of 7,000 daily ads with a conversion rate of 4.7 days per viewed ad.
By lulling Marketers into believing these conversion rates are effective, the advertising industry and their platform partners (Facebook, Google, etc.) convince marketers to spend vast sums of money on their relatively inefficient methods. Growing concern over these platforms' ad impression veracity and conversion rate claims have made Brand Marketers and Retailers begin to rethink their wild west online ad strategies, demanding the advertising industry, platform providers, and middlemen all create better ad efficacy tools as increased spending fails to correlate to increased revenues and market shares.
Dangit! surpasses S.E.O and A.I. by providing engaged users to our partners for fractions of their marketing budgets without surreptitious surveillance or wasteful targeted ad campaigns. Dangit! is an entirely new advertising platform providing only quality leads for advertisers with a fundamentally new technology. Dangit! disrupts convention by supplementing existing advertising channels, to increase advertisers' revenues and ROI's, instead of devising new content, gimmicks, or targeting rationales to enhance viewership. The direct consequence of this less costly new technology reduces the need for profligate spending on A.I. generated targeted ads, which coupled with first to market advantage, further increases advertisers' utilization of Dangit!
Through our groundbreaking ad context reformatting and facilitation service, Dangit! reduces the need for fraudulent bot ads and irrelevant targeted ads by verifying which ads are actually viewed, which ads influence purchases in given time frames, and Dangit! provides committed consumers for the Brand or Retailer's message at an efficiency rate of over 50%. Dangit! overcomes potential lost sale opportunities by providing a method of gauging a consumer's intent to purchase goods or services, proving Dangit! is a truly disruptive platform.
Furthermore, GDPR rules are making it increasingly difficult for the myriad of sub tier vendors and analytics companies to prove their value in the advertising spectrum as targeted ad rationales face increased advertiser and governmental scrutiny.    
Following are some attributes of this unfamiliar medium/platform/service/mobile app/vehicle.
It creates an entirely new, unrealized, and untapped advertising platform.
It is a free app redefining existing mobile and web technology utilization, including 5G.
It is a helpful and user friendly application.
It does not publish or utilize content, news, or social media to draw users or create revenue, and it is not a physical product.
Dangit! Inc. is a Delaware Corporation
Dangit! is a Patent Pending pre seed startup with no direct competitors, and first to market advantage. Dangit! anticipates 50 + Million U.S. users 18 months post launch, realizing 50% net margins on over $1Billion annual revenue.
Dangit! is an entirely new advertising platform to be exploited by virtually every existing entity and channel in the $300+ Billion advertising-marketing spectrum, including Brand Marketers, Brick and Mortar Retailers, and Web Retailers.
Dangit! fundamentally changes advertising implementation, forcing advertisers to reassess inherent mobile and internet ad inefficiencies that result in Trillions of Dollars of misdirected sales. Dangit! enables our Brand and Retail Partners to better determine advertising campaign effectiveness, while facilitating Hundreds of Billions of sales annually, saving Billions of Dollars of ad spending in the process. This app improves advertising efficiency rates and reduces the overall frequency with which ads are run, while ultimately generating Billions of Dollars of annual Dangit! revenues in the U.S. market alone.
We know what you're thinking… but we are more than fresh paint slapped on established products in mature markets. Dangit! surpasses other's superlative claim promises.
For Further Details
Learn about Dangit's Core Strategies, Revenue Projections, Business Model, Capital Requirements, and Employment Opportunities